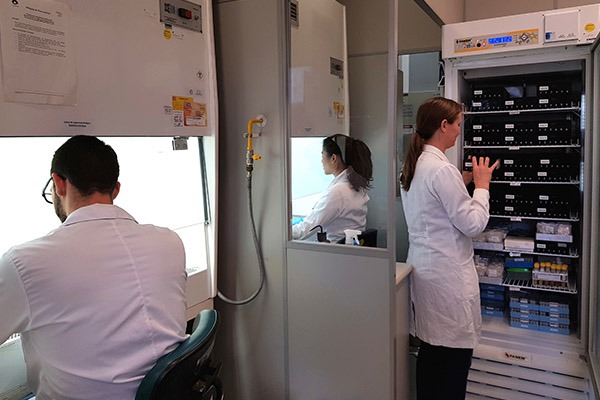 The Brazilian Collection of Environmental and Industrial Microorganisms (CBMAI) was created in January 2002 at the Pluridisciplinary Center for Chemical, Biological and Agricultural Research (CPQBA / UNICAMP), with the support of the State University of Campinas (UNICAMP), São Paulo Research Foundation (FAPESP), the Ministry of Science and Technology (MCT) and the Funding Authority for Studies and Projects (FINEP).
The CBMAI is a service collection which mission is to act as a "Biological Resource Center", CRB (a term defined by the Organization for Economic Cooperation and Development – OECD), dedicated to the preservation, storage and distribution of microorganisms and associated information, as well as taxonomic characterization and identification, thus contributing to the scientific, technological and industrial development of the country. The CBMAI meets the demands of the academy in terms of research and teaching, besides the industrial area and government institutions, offering advising services and technical-scientific consulting, training and development of research projects.
The team of professionals and collaborators associated to CBMAI has expertise in microbiology, preservation and systematics of bacteria and fungi, with experience in polyphasic taxonomy, phylogeny and application of culture-independent methods to characterize the microbial diversity of environmental samples (like water, soil and oil), raw materials and industrialized products. CBMAI follows the guidelines for Good Practices for BRCs by the OCDE and implemented the NBR ISO/IEC 17025: 2017 standards. It is in the process of obtaining this Accreditation.
CBMAI works with the Division of Microbial Resources (DRM) of CPQBA / UNICAMP, located in Paulínia (SP).
See below for the links of institutions with which CBMAI is aligned:
https://www.cpqba.unicamp.br/colecoes/cbmai.html
https://www.prp.unicamp.br/pt-br/patgen-patrimonio-genetico
http://splink.cria.org.br/manager/detail?setlang=pt&resource=CBMAI
http://www.wfcc.info/